Real Pharm
Real Casein 100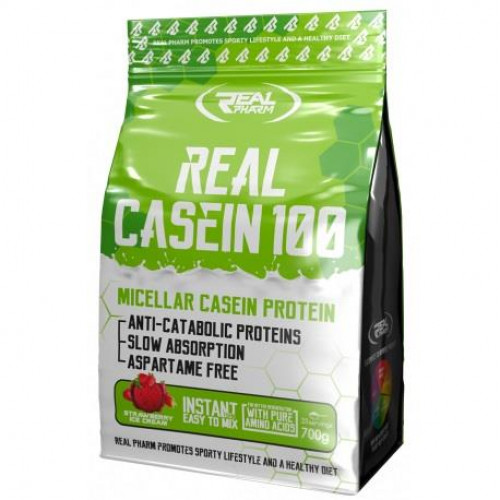 Čistý micelárny kazeín s vysokým obsahom naturálnych BCAA, b...
Zobraziť viac
---
Rate:
0,0 (0 rates)
Category:
Proteins
---
Package:
1800 g, 700 g
Taste:
banana, caramel, chocolate, chocolate hazelnut, cookies, strawberry, vanilla, vanilla almond, vanilla berry, white chocolate coconut
All in stock
Free shipping over 130 EUR
We ship within 24 hours
Gift for each order
Čistý micelárny kazeín s vysokým obsahom naturálnych BCAA, bez aspartmánu.

Micelárny kazeín
RealPharm Casein 100 je prípravok, ktorý obsahuje micelárny kazeín, teda proteín s postupným uvoľňovaním BCAA do krvi. Produkt je vhodný pre všetkých, ktorý hľadajú proteín s postupným uvolňovaním. To znamená, že bielkoviny sa spracovávajú dlhšiu dobu. Rovnako aminokyseliny, ktoré sú obsahuje v bohatom množstve.
Ideálny pred spaním
Najlepší čas na užitie je ihneď po tréningu a približne jednu hodinu pred spánkom. Výrobný proces ktorý používame umožňuje eliminovať všetok nežiaduci tuk a sacharidy.
Výrazná chuť kazeínu
Kým množstvo spoločností sa snaží potlačiť tradičnú chuť kazeínu, my nie. To že ide o kazeín zistite ihneď. Dobre sa rozmiešava a je vhodný aj do kombinácie s jedlami (napr. večerou). Pri rozmiešaní s mliekom dostanete lahodný proteínový šejk.

Zloženie
Nutričné hodnoty 100g / 30g
Energy 353 kcal (1478KJ) / 106 kcal (443 KJ)
Fat 1g / 0,3g
of which saturates 0,4g / 0,12g
Carbohydrates 4g / 1,2g
of which sugars 3g / 0,90g
Fibre 0,8g / 0,24g
Protein 82g / 24,60g
Salt 0,5g / 0,15g
Chocolate
Nutričné hodnoty 100g / 30g
Energy 346 kcal (1449 KJ) / 104 kcal (435 KJ)
Fat 2g / 0,6g
of which saturates 0,6g / 0,18g
Carbohydrates 8g / 2,4g
of which sugars 5g / 1,5g
Fibre 1,6g / 0,48g
Protein 76g / 22,8g
Salt 0,5g / 0,15g
Ingrediencie
Micellar Casein, cocoa (chocolate flavour), aroma, strawberry flavoured citric acid, carboxymethyl cellulose (thickening agent), sucralose (sweetener), colourings: Beet juice concentrate, beta-Carotene, Caramel E150c, Riboflavin E101 – depending on the flavour. Contains sweeteners.
Dávkovanie
Užite 1 dávku produktu (1 odmerka) 1-3x denne. Ideálne po tréningu