Dorian Yates
Shadowhey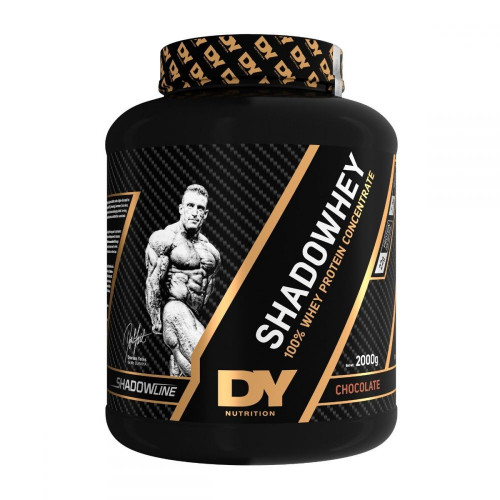 Dorian Yates Shadowey 100% Whey Protein Concentrate is a hig...
Zobraziť viac
---
Rate:
0,0 (0 rates)
Category:
Proteins
---
Package:
2000 g
Taste:
chocolate, cookies and cream, vanilla
All in stock
Free shipping over 100 EUR
We ship within 24 hours
Gift for each order
Dorian Yates Shadowey 100% Whey Protein Concentrate is a high-quality WPC whey protein concentrate containing over 23 grams of protein in one scoop. Protein supplement from Dorian Yates, a multiple winner of Mr. Olympia.
Protein supplement with a rich amino acid profile, rich in BCAAs and glutamine. Shadowhey is characterized by excellent bioavailability, and its use will prove useful both after training and between meals during the day, providing the right amount of protein in the diet. Available in two delicious flavors.
WPC- whey protein concentrate is characterized by an exceptionally high biological value as well as excellent bioavailability, it is absorbed from the gastrointestinal tract in just a dozen minutes, has a wide amino acid profile, high biological value BV = 104, rich in alpha-lactalbumin - reducing stress, preventing cancer and cardiological diseases, lactoferrin, i.e. perfectly digestible iron and lactoperoxidase, the killer of bacteria.
Dorian Yates Shadowhey Whey Protein Concentrate is undoubtedly one of the best premium-class protein supplements. High protein content and a small amount of sugar and fat make it a popular choice among athletes focused on building muscle mass. The high content of glutamine and BCAA promotes post-workout regeneration, reduces inflammation and strengthens muscles.
Dosage of Shadowhey Concentrate:
Beginners: 1 serving after each training or physical exertion.
Advanced athletes: 1 serving after training or between meals.